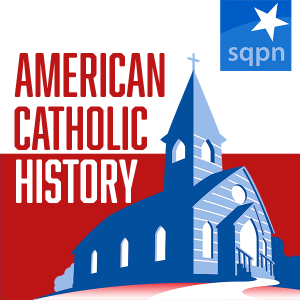 American Catholic History, hosted by Tom and Noelle Crowe, finds the hidden gems and compelling stories of Catholic Americans who have contributed to their nation by virtue of their faith over the past three centuries. In about 20 minutes per episode, American Catholic History will introduce you to the amazing men and women who came to these American shores and were born here and contributed in ways both great and small, celebrated and unheralded.
Send us your feedback at [email protected] and visit us at the StarQuest Media Facebook page.
How to Listen or Follow
Here's how to listen or follow the podcast. (Don't worry: It doesn't cost anything to follow.)
Join American Catholic History on Pilgrimages
Join Tom and Noëlle for amazing pilgrimages to interesting Catholic holy sites throughout the United States. To find out more and to reserve your spot, visit the American Catholic History web site.
Teachers, Catechists, and Parents
Are you a teacher, catechist, or parent who would like to use American Catholic History to share with your children or students? We've made the following worksheets available for you to download and reproduce and we're working on future resources as well. (Let us know if you're looking for something specific.)
Parish Bulletin Editors
Are you a parish bulletin editor or catechist looking for good, brief content that will entertain, inform, and form your audience? StarQuest is making available brief, written versions of American Catholic History episodes–under 350 words each–for you to use in your publications. These are available in Word and PDF downloadable formats and free to use under a Creative Commons Attribution-Noncommercial-Share Alike (CC-BY-NC-SA 4.0) license. We will be periodically adding new downloads so be sure to check back often.
Founding Fathers and American Catholic History (Word format, PDF)

George Washington, Catholic?
John Fitzgerald
Ben Franklin and Bishop John Caroll
Commodore John Barry
Fr. Pierre Gibault & Francis Vigo

Other Stories from American Catholic History
Black American Catholics for Black History Month (Word format, PDF) (UPDATED: January 28, 2022)

Fr. Augustus Tolton
Integration in Catholic North Carolina
Mary Edmonia Lewis
Julia Greeley
Mother Mathilda Beasley
Pierre Toussaint
Mary Lou Williams
Daniel Rudd
Henriette Delille
American Catholic History Store
Find links to all the books and other resources we mention in our show to find out more about these fascinating people and places in American Catholic History, by shopping in the ACH Store. We're constantly adding new resources to the store, so if you don't find what you're looking for check back later or send us an email to ask.
As an Amazon Associate, SQPN earns a portion of the selling price from qualifying purchases. This helps support our mission. Thank you for your support.